Growth in 2022
Harris is taking a moment to look back on a tremendous year of growth, having completed a record-high of 32 acquisitions, including the celebration of our 200th acquisition since starting our journey. Harris had the pleasure of welcoming over 6,300 employees and 13,400 customers this year.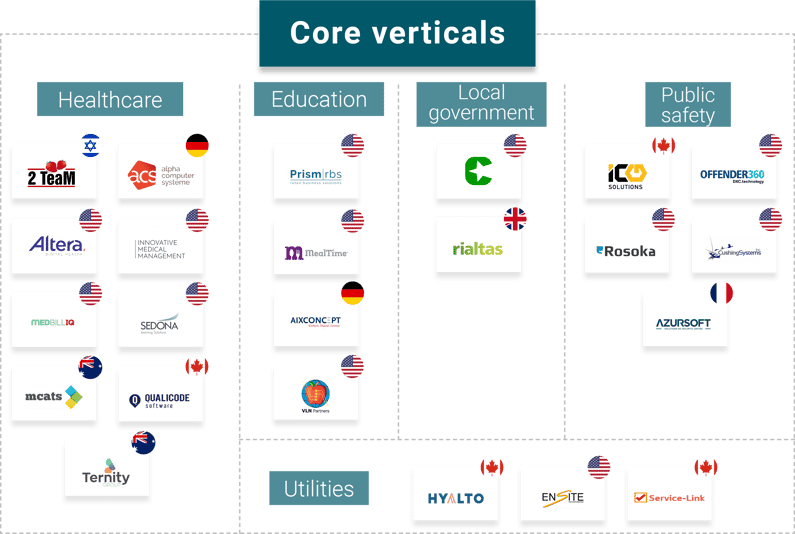 Reflecting on 2022, Harris' concerted efforts to expand into new regions and industries continues to manifest, adding nine acquisitions outside of our core verticals. Notably, three acquisitions helped bolster our presence in France after our first acquisition in the region in 2020. These businesses offer incredibly unique products to their customers, such as insurance agency software to AI-enabled accounting solutions, and have dedicated themselves to perfecting their solutions.

Celebrating 200!
Alpha Computer GmbH, a healthcare patient management solutions provider in Germany, is recognized as Harris' 200th acquisition! It took Harris 21 years to close our first 100 acquisitions and only 5 years to close 100 more. We can't help but be enthusiastic about the future after reflecting on this remarkable accomplishment.
Highlight on Healthcare
Harris closed its and Constellation Software Inc's largest acquisition to date: Allscripts' Hospitals and Large Physician Practices business segment acquisition, rebranded as Altera Digital Health. Altera delivers health IT solutions that support caregivers to elevate care delivery and inspire healthier communities across the globe.
Other healthcare milestones include our global expansion with acquisitions in Canada, Israel, Germany and the United States, including the continued evolution of our maternity healthcare portfolio in Australia which welcomed two businesses.
Strong relationships with M&A Advisors
The M&A community offers critical resources and expert knowledge for sellers and buyers alike, and it is built upon strong connections. Harris values our relationships with M&A Advisors and this year is no different: one of every six acquisitions involved an M&A advisor or professional and was especially pertinent in cross-border transactions. We had the pleasure of working with the following firms in 2022:
When working with Harris, M&A Advisors can find assurance in our reliable processes and experienced in-house teams who are equally committed to finding the best solutions and creating optimal outcomes for sellers.
#WeAreHarris
The diversity of businesses we acquired in 2022 showcases that Harris continues to actively pursue opportunities within existing or new verticals and geographies. If you have opportunities to discuss, please contact us.