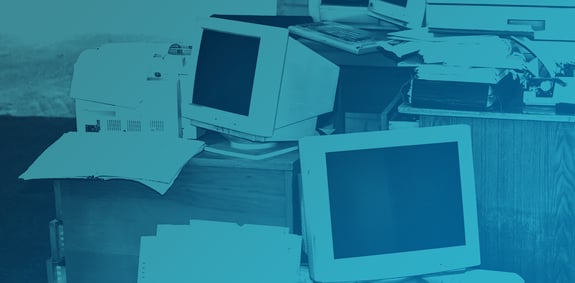 OUR STORY
Our journey from 1976

1976 - 1996
Nigel Harris takes his idea of creating vertical market software and starts in the utility industry.
1996 - 2002
Harris sells to CSI while the business expands from Ontario, CA into the US market, leveraging the change brought about by Y2K.
2002 - 2012
With Constellation's assistance and support, Harris begins to grow its business through acquisition – expanding within utilities but also into local government and the province of Quebec.
2012 - Current
Harris continues to grow in utilities, local government and Quebec as well as enters the Healthcare vertical and begins its international expansion.
THE IDEA
GETTING STARTED
A START IN UTILITIES
Amidst the potential provided by the microcomputer revolution, Nigel Harris had an idea so big that he decided he had to build a company around it.
The idea was a computer-operated automated accounting system. Today, these are taken for granted, but in 1975, this was a revolutionary idea.
At the time, Harris was a district manager for Litton Electronic Business Systems (LEBS), which was a unit of the McBee Company, which was itself part of Litton Industries – a US-headquartered conglomerate. Harris's idea was to build an automated accounting system, but McBee was a manual systems company that had no experience in or appetite for change in this direction.
As luck would have it, the leaders at McBee also recognized the disconnect in both understanding and ambition and they arranged for LEBS to be reassigned to Sweda International – the cash register unit of Litton Industries – in late 1975.
By then, Harris and his LEBS team had an embryonic product and some customers. These customers were charged in an unusual way: they were asked to pay recurring fees to LEBS for hardware and software support.
With some early successes, Harris knew that the next challenge was funding the cost of developing products that could work with the often antiquated hardware and software that their customers owned. But Sweda's management was focused on cash registers and couldn't see a future for Harris's outsized ambitions.
So Harris decided to stay true to his vision, and made an offer to purchase LEBS from Sweda and Litton. A new company – owned by him – would take responsibility for all of LEBS contracts, employees, and inventories.
This time his ambition paid off. After months of work, his offer was accepted and in July of 1976, LEBS became the N. Harris Computer Corporation. And Nigel Harris became its first CEO.
As this was taking place, the pace of change in the computer and software industries was accelerating. Harris found itself playing catch-up almost right from the start. The problem was the Litton equipment. It was already outdated. So Harris and his team decided to focus their own activities around two simple ideas: finish the work they had started for customers, and spend time with customers and prospects to understand the emerging needs of their segment of the embryonic business software industry.
The biggest change seemed to be the means of data input, away from punch cards to direct entry via a user-operated cathode ray terminal display. Only large companies could support the R&D and capital costs to develop and manufacture the new hardware. As Harris Computer was small and needed to build its brand, management decided to enter the future with a partner. Harris also believed that being able to be "close" to his hardware partner would allow for a more collaborative and partner centric relationship. With these principles in mind they approached and partnered with: Ottawa-based Digital Equipment Corporation (DEC).
What wasn't changing was the practice of customers buying hardware from one company, and customized software from another. Unfortunately, incompatibilities of some sort usually led to finger-pointing by both vendors, with the customer as the loser. Nigel Harris had a different idea: what if the customer was offered a single support experience that combined both hardware and software?
The market was quite responsive, and Harris Computer began to thrive. The combination of custom software and support for that software on the DEC platform gave Harris an early and potent competitive advantage.
Always thinking, Nigel Harris realized that custom software projects often became bogged down in activities needed to complete the final 10% of the code. Success here was the difference between an unhappy customer and a satisfied, referenceable one.
He also noticed that many customers bought new applications that hadn't been written before. There was a gap between customer expectations for such code and what the vendor was able to deliver. The size of this gap – and its direction – affected customer satisfaction and a software company's profit margin.
The challenge was to close both gaps at once. Harris Computer did so by pivoting away from its roots. The solution was simple and powerful: If a company could write software that solved the majority of needs of a large number of customers without being written from scratch each time, that company could also invest in building software that exceeded customer expectations by meeting their very specific business processes and use cases.
Today this is called vertical market software. Then, it was called inspired thinking.
But Harris didn't have the requisite vertical to serve. He and his team began to search for a vertical that was unique, complex, and had minimal competition thereby providing fertile ground for growth. The answer came via the telephone.
The call was from the DEC Sales Vice President. Across the street from a DEC manufacturing facility, a local electrical utility had been outsourcing its customer billing function to a data centre, but wanted to bring the function back in-house. DEC had been in discussions with the utility to use DEC hardware, but had experienced no success. The utility seemed to be firmly oriented toward a solution from IBM that combined hardware and software.
DEC was aghast at the thought of having a rival's product installed quite literally across the street from one of their largest facilities, so decided to up their competitive game several notches. DEC would make the utility an incredible offer: a donation of the required hardware – but only if Harris would agree to build and support a billing system to run on that hardware.
Nigel Harris saw the opportunity for what it was, though did some rapid due diligence to validate his emerging view that the utility industry was the right first target for his new way of writing and charging for software.
That due diligence took the form of market research into the larger utility market within the province of Ontario. Harris found quickly that most utilities were using some form of outsourced billing solution. A better offer would persuade many to move the billing function back in-house. Moreover, Harris discovered that there were other business needs that could be software-enabled, meaning that there were growth opportunities in utilities beyond billing.
With DEC, Harris set about coming up with that offer. It was a monumental effort, but this decision to put his new business model into operation in partnership with DEC, and focused on utilities, was a master stroke. It was accepted with enthusiasm by large and small utilities, and travelled well – to the Caribbean, Australia, and New Zealand.
But Harris hesitated when looking south to the US market. It was vast, many times more complex than the Canadian utilities market, with different needs and a new array of competitors. While Harris Computer had built a team of software professionals who triumphed in the Canadian and Commonwealth markets, tackling the US meant building a new echelon of capabilities and financial strengths. As before, with DEC, Nigel Harris decided to find the right partner.
Enter Mark Leonard, and Constellation Software.
In 1996, twenty years after the founding of N. Harris Computer Corporation, Nigel sold to Constellation Software Inc…putting into motion the next chapter.
After the sale to CSI, Nigel Harris went on to be a serial entrepreneur, starting ventures in multiple markets. But he never lost touch with his first creation, saying "All these years later, I'm grateful for the job that Constellation and the Harris leadership team have done with my baby. Every time I drive by the Harris offices I feel a great sense of pride."
Stay tuned as our story continues to be told…