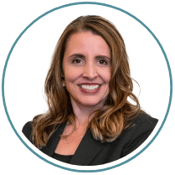 Meet Carin Meyer, former co-owner of The CLM Group (doing business as MealTime) and current Vice President of Client Services
Carin was one of three co-owners of The CLM Group / MealTime. She, along with her sister Jan, managed this family-owned and operated business as COO and CEO respectively. The MealTime product has been at the heart of the National School Lunch Program, with the mission of providing trusted, easy-to-use food service software to public and private schools nationwide.
Why Harris?
After running a profitable software development company for nearly 30 years, we had begun conversations about an exit strategy of selling our business in 5 - 10 years. When the pandemic happened unexpectedly, it had an immediate negative impact on our profitability and our business began to struggle for the first time.
"As a result of our new situation, we accelerated the plans to sell our company. "
When approached by Harris, we felt our values as a private business were closely aligned. There was an emphasis on autonomy and the ability for the business to continue operating as MealTime. We were assured that there would be no plans to sunset the product or consolidate the organization, and they delivered on this promise.
From a strategic perspective, MealTime complimented Harris' existing businesses within its School Nutrition Solutions portfolio. Naturally, this also provided a path to grow MealTime organically under the leadership of Harris.

| | | |
| --- | --- | --- |
| | | |
Early on in the process, we made the decision to announce the pending acquisition of the business to all employees. Harris was supportive of this decision and ultimately it was one we made thanks to the honesty and transparency that was demonstrated throughout due diligence, which aligned with Harris' Respect of the Individual value.
We worked closely with Harris' in-house team to address two issues we believed would put the sale at risk. An R&D investment and a tax-related challenge came up during the preparation of our disclosure schedules; however, Harris worked with us to understand the problems and provided alternative solutions. Throughout the due diligence process, Harris demonstrated two additional values: Bad News Does Not Get Better with Time and Solutions Not Problems, which grew our confidence that we were on a path to a successful sale; and MealTime join Harris in May 2022.


Connect with Carin Meyer to learn more about M&A at Harris. And visit our blog to read more seller experiences and acquisition highlights.
---
About N. Harris Computer Corporation (Harris)
Harris acquires software companies, manages them using industry best practices, and builds them for the future. Through acquisitions, Harris has grown tremendously since its origins in the private, utility, education, government and healthcare sectors. Harris has acquired more than 200 businesses worldwide, in more than twenty industries. Harris is an operating group of Constellation Software Inc. (TSX: CSU), one of North America's most active software acquirers. CSI's head office is in Canada.